Software for addressable line
DumpLan

The software DumpLan is a program that allows the programming and management of ADR2A addressable control panel by PC.

All settings can be saved to disk to be stored and reused later. To load the settings on the ADR2A control panel, connect the PC through the USB port. It is the ideal tool to set the parameters of the control panel before placing it in the final location of use.
Through DumpLan, the user can set both the parameters of its control panel, such as the mode of operation of the panel, of the relays, the delay of activation of the sounders lines and the parameters of the devices connected to the loops, ie detectors, push buttons, analog input / output, sounders, flashing lights, etc. .

The screen with the parameters of the field allows to have an overview of all the points connected to a line and the type of zones. Each point (up to 240 points per loop) can be assigned to a zone (up to 99 zones per loop). For each point with output device (sounders, flashing lights, modules, etc..) You can set a schedule so that it has its activation under certain conditions (fault, alarm, prealarm technological alarm) indicating in which areas (across the line, in a given area, multiple areas, etc..) leaving the system designer greater freedom of choice.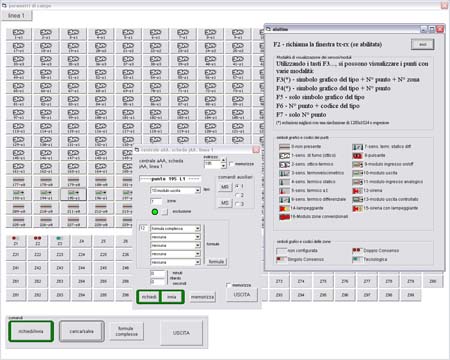 Click on the image for larger version
TestLoop
The TestLoop is a program of analysis of the addressable field. Through TestLoop you can see on a PC monitor, connected to the ADR2A control panel, the status of the addressed points.

It is the ideal tool for verifying an installation, in fact the screens provide, for each line, an overview of all points whose status is indicated by different colors.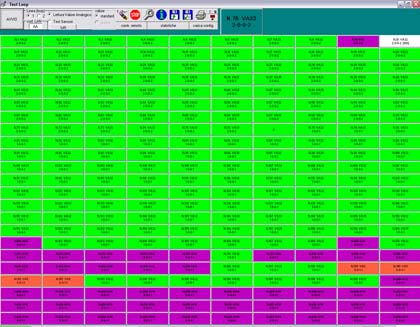 Click on the image for larger version
The program can operate in two modalities.
During the first, defined "Read Analog Value", the system polls all points of a loop, by analyzing the analog value and keeping track of their responses to queries. It is possible with immediateness to see how many and which points are present, which respond properly and if there are any double addresses (two or more detectors with the same address).
o During the second, defined "Test Sensors"", the internal state of the point is prompted. If the device is not responding the test returns "failed". For optical detectors this test also allows to check whether the level of dirt exceeds the threshold limit beyond which the operation of the detector is no longer reliable.

After a few minutes of operation is also possible to evaluate the plant data statistically, since for each point is shown the response rate.

For both modes, It is possible choose to take the test:
on all addresses regardless of the points present in the field;
only on the points of the field, after loading the configuration from the control panel;
on all addresses, after loading the configuration from the control panel, highlighting any discrepancies.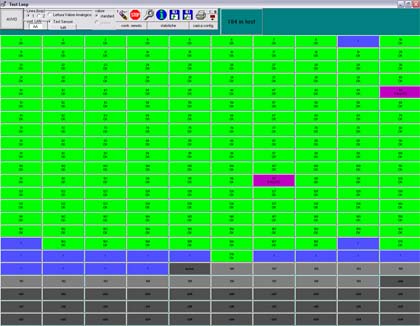 Click on the image for larger version